Escape Artists Anthology 2013-2017: UFOs, Aliens, Spacecraft, Telepathy, Fugue @ The Old Post and Telegraph Office edited by Ruth Skilbeck (ebook published June 2018)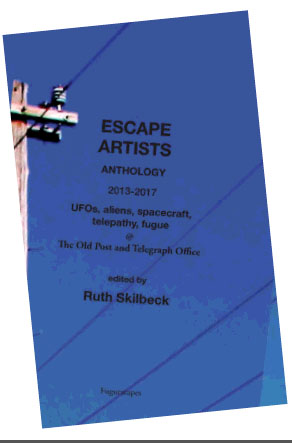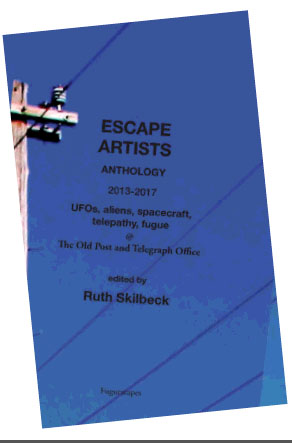 Escape Artists Anthology 2013-2017: UFOs, Aliens, Spacecraft, Telepathy, Fugue @ The Old Post and Telegraph Office edited by Ruth Skilbeck (ebook published June 2018)
UFOS, ALIENS, SPACECRAFT, TELEPATHY, FUGUE @ THE OLD POST AND TELEGRAPH OFFICE
"In this challenging time there are many threats but also opportunities for authors and artists banding together, meeting via social media and publishing... Fresh voices can be heard and literary interarts and interdisciplinary cultures created, or strengthened." Ruth Skilbeck.
Contributors: Richard James Allen, Christopher Barnett, Christen Clifford, Paloma Concierta, Fan Dongwang, Elizabeth Farrelly, Floc'h, Elizabeth Gertsakis, Jeremy Gluck, Michael Gormly, Ghassan Hage, Ying Huang, Karen Kennedy, Ramon Loyola, Philip Mann, Rhyll McMaster, Dushko Petrovic, Luciano Prisco, John Queripel, Maxim Skilbeck-Porter, Ella Skilbeck-Porter, Suellen Symons, Lâle Teoman, The Carbon Manual, Anne Tsoulis, Natasha Williams, Kenneth Wolman, Leisa Woodman, and William Yang.
Escape Artists Anthology comprises a literary interarts compilation of creative and critical works by authors and artists from around the world including essay, memoir, short story, poetry, song lyrics, art, and interview. The themes include: taste, longing and melancholy; speculative fiction; and fascinations with phenomena such as UFOs, "aliens", spacecraft, telepathy, and fugue in art and literature and what these signify as metaphors and/​or literally about: contemporary society, and the inner journeys of the self in relation to others and forms of social media community, in this time of disruptive global technological change.
The anthology was conceived and created in Newcastle, Australia, in a 19th century post and telegraph office. Read the story of how it began in the anthology.
The second image (blue) is the inside cover on the pdf ebook.
Escape Artists Anthology is an international multimodal literary arts anthology of essays, poetry, letters, social media writings, short stories, art, photography, interviews, a spoken word electronic music track (playable on some but not all devices), and more.
Winter Begins by The Carbon Manual can be heard on YouTube for those who cannot play it in the ebook.
TITLE: ESCAPE ARTISTS ANTHOLOGY
ISBN: 978-0-6482454-4-5 (ebook-pdf)
Pages: 304
Escape Artists Anthology is an international literary anthology comprising arts and culture essays, poetry, short stories, memoir, social media letters, artworks, speculative fiction, travel writing, novel excerpt, song lyrics, environmental art photojournalism, interviews. Juxtaposing new and thematic works by prominent authors, poets and artists, with emerging voices, on themes related to the author, artist, intellectual, and individual self in social and online communities, in a time of disruptive global change.
Edited and with an introduction by: Ruth Skilbeck. Works by: Richard James Allen, Christopher Barnett, Christen Clifford, Paloma Concierta, Fan Dongwang, Elizabeth Farrelly, Floc'h, Elizabeth Gertsakis, Jeremy Gluck, Michael Gormly, Ghassan Hage, Ying Huang, Karen Kennedy, Ramon Loyola, Philip Mann, Rhyll McMaster, Dushko Petrovic, Luciano Prisco, John Queripel, Maxim Skilbeck-Porter, Ella Skilbeck-Porter, Suellen Symons, Lâle Teoman, The Carbon Manual, Anne Tsoulis, Natasha Williams, Kenneth Wolman, Leisa Woodman, and William Yang